Home > Cambodia Tour > Cambodia Attractions
Neak Pean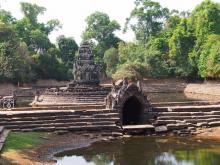 Situated in Siem Reap, Neak Pean, also called as Preah Neak Peon, is an artificial island with a Buddhist temple on a circular island in Preah Khan Baray. It has a large square pool surrounded by four smaller square pools. In the middle of the central pool is a circular "island" encircled by the two nagas.
The layout of Neak Pean is based on the ancient Hindu belief of balance with four connecting pools represent Water, Earth, Fire and Wind. It was believed that going into these pools would balance the elements in the bather, thus curing disease. The central temple sits at the axis of a cross or lotus pattern of eight pools, faced by a statue of the horse, Balaha, saving drowning sailors.
Neak Pean is most photogenic in the wet season when the pools are full, while during the dry season the water is low.
Top Tours in Cambodia