Home > Cambodia Tour > Cambodia Attractions
East Mebon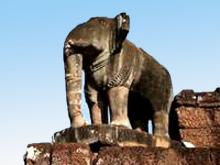 East Mebon is a Hindu temple in Angkor, built in the 10th century by King Rajendravarman, dedicated to the Hindu god Shiva and honoring the parents of the king. It would have stood on an islet in the center of the Eastern Baray reservoir, which now has been dry.
East Mebon is like a smaller version of Pre Rup, housing three enclosing walls and three tiers. The flanked earthen ramps are a good visual guide to how East Mebon was constructed before.
The elaborate brick shrines are dotted with beatly arranged holes, which attached the original plasterwork. The base of East Mebon is guarded at its corners by perfectly carved stone figures of elephants, many of which are still in good condition.
Top Tours in Cambodia