Home > Cambodia Tour > Cambodia Attractions
Banteay Srei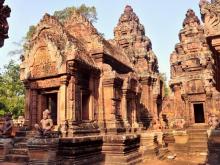 Banteay Srei sits approximately 25 kilometers from the Angkor center and about 32 kilometers from Siem Reap, but it is well worth the drive. Built in the 10th Century, Banteay Srei pre-dates Angkor Wat. Considered as the jewel in the crown of Angkorian artisanship, it is an amazing art gallery of Angkor.
Almost each inch of interior buildings is covered in great decoration. Classic carvings at Banteay Srei include delicate women with lotus flowers in hand and traditional skirts clearly visible, as well as breathtaking recreations of scenes from the epic Ramayana adorning the library pediments.
Though it has been damaged, Banteay Srei was the first major temple-restoration undertaken by the EFEO in 1930s. By using the anastylosis method, it was proved as a big success for recovering its original beauty.
It is possible to string the visit of Banteay Srei to a trip to the River of a Thousand Lingas at Kbal Spean and Beng Mealea, or to Banteay Samre and Phnom Bok.
Recommended Tours with Banteay Srei: 3 Days Angkor (Siem Reap) Essential Tour; 5 Days Angkor (Siem Reap) Discovery Tour; 7 Days Cambodia Highlights Tour; etc.
Top Tours in Cambodia