Home > Cambodia Tour > Cambodia Attractions
Banteay Kdei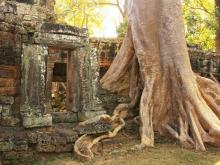 A massive Buddhist monastery from the latter part of the 12th century, Banteay Kdei is surrounded by four concentric walls. The outer walls measures 500m bt 700m. Each of its four entrances is decorated with garudas, which hold aloft one of Jayavarman VII's favorite themes: the four faces of Avalokiteshvara. Similar in style to that of Ta Phrom but less complex and smaller, an inscription stone has never been discovered so it is unknown to whom the temple is dedicated.
Sra Srang, in the east of Banteay Kdei, is the pool of Ablutions, and literally means "royal baths", measuring 800m by 400m, reserved for the king and his consorts. There is a tiny island in the middle, and once stood a wooden temple, but now only stone base remains. It is a beautiful place to have a quiet sunrise.
Recommended Tours with Banteay Kdei: 3 Days Angkor (Siem Reap) Essential Tour; 5 Days Cambodia Classic Tour; 8 Days Cambodia Exploration Tour; etc.
Top Tours in Cambodia