Home > Cambodia Tour > Cambodia Attractions
Angkor Thom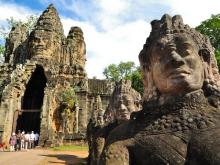 With more than 10 sq kilometer in size, Angkor Thom is indeed a 'Great City'. It was the last and most enduring capital city of the Khmer empire and established by King Jayavarman VII. It's hard to imagine any building bigger or more beautiful than Angkor Wat, but some parts in Angkor Thom express in a greater way.
The gates of Angkor Thom are five immense structures, 20 meter in height, and topped with the magnanimous faces of the Bodhisattva Avalokiteshvara. The south gate is the most popular with visitors, on the main road into Angkor Thom from Angkor Wat, since it has been completely restored and many of the heads (mostly copies) remain in place. And well-known movie Tomb Raider used the east gate as a scene, where the bad guys broke into the tomb by pulling down a giant apsara.
Within Angkor Thom are located several monuments from earlier eras, and at the city's height, it may have supported a population of one million people in the surrounding region. Famous Bayon temple, sits at the centre of the city, as Jayavarman's state temple in ancient time. In addition, other important monuments, such as the Baphuon, the Royal Enclosure, Phimeanakas and the Terrace of Elephants, are enclosed in incredible Angkor Thom.
Recommended Tours with Angkor Thom: 5 Days Cambodia Classic Tour; 8 Days Cambodia Exploration Tour; 10 Days Cambodia Experience Tour; etc.
Top Tours in Cambodia