Home > Thailand Tour > Thailand Attractions
Wat Phra Singh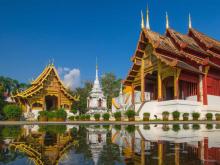 Wat Phra Singh is the most visited Buddhist temple located in the western part of the old city center of Chiang Mai, renowned for the city's most revered Buddha image, Phra Singh (Lion Buddha).
There are several attractions in Wat Phra Singh. The main stupa displays classic Lanna style with the octagonal base. Nearby is Wihan Lai Kham, a small chapel. The large hall is also famous for the narrative mural paintings in a high level of skill, which date back to 1870, depicting some Thai stories.
During the Songkran festival every year, the statue of Phra Singh is carried from Wihan Lai Kham and through the streets of Chiang Mai in a religious parade during. The spectators will honor the statue by sprinkling water over it.
Top Tours in Thailand