Home > Thailand Tour > Thailand Attractions
Wat Pho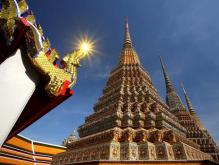 Located in the Rattanakosin district directly adjacent to the Grand Palace, Wat Pho, also known as Temple of the Reclining Buddha, traces its root to RamaⅠ's reign, over 200 years ago, with the longest history and largest scale in Thailand, consecrating the largest relining Buddha and holding a maximum of Buddha images. It is also the country's first centre for national education.
Wat Pho complex consists of two walled compounds bisected by Soi Chetuphon running east-west. The northern walled compound is where the reclining Buddha and massage school are found. The southern walled compound, Tukgawee, is a working Buddhist monastery with monks in residence and a school. Outside the temple, the grounds contain 91 chedis (stupas or mounds), four viharas (halls) and a bot (central shrine).
The tremendous reclining Buddha, 46m long and 15m high, explains how the Buddha passes into the heaven. The figure is made up of plaster, around a brick core and finished in gold leaf with mother-of-pearl inlay decorating the eyes and feet that endows it with magnificent dignity.
Top Tours in Thailand