Home > Thailand Tour > Thailand Attractions
Wat Pa Pradu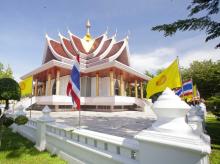 Wat Pa Pradu is the oldest Buddhist temple in Rayong Province, constructed in the Ayuttaya period. Located in the heart of Rayong, it's easily reached by tuk-tuk.
Wat Pa Pradu is home to a huge reclining Buddha statue lying on its left side, which is really different from the normal position of a reclining Buddha in Indochina. This difference makes the image highly revered amongst local people.
Adjacent to the temple grounds, there is a market, called Wat Lum Market, that tourists can observe the daily life of locals. Also the laid-back houses and colorful stalls of the market bring tourists back to the past.
Top Tours in Thailand