Home > Thailand Tour > Thailand Attractions
Wat Mahathat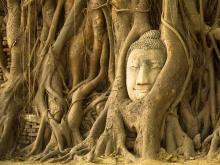 Wat Mahathat is one of Ayuthaya's most photographed sites, famous for a Buddha head embedded in twisted tree roots, which looks like the tree is giving birth to the Buddha.
Constructed during the reign of King Ramesuan in the 14th century, Wat Mahathat was founded as the spiritual center of the city of Ayuthaya. It served as the monastery for the Supreme Patriarch of a forest-sect of Buddhism.
As the most historically relevant ruin in Ayutthaya, Wat Mahathat suffered a serious damage during the Burmese infringement. Though not much was left standing, the Khmer-style tower in Wat Mahathat is still impressive that deserves visit.
Top Tours in Thailand