Home > Thailand Tour > Thailand Attractions
Wat Chiang Man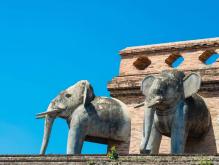 Wat Chiang Man is the oldest temple in Chiang Mai city, constructed by Phaya Mengrai. A stone slab inscription engraved in 1581 in Wat Chiang Man illustrates the information of Chiang Mai's 1296 founding.
Wat Chiang Man features typical northern Thai temple architecture, with huge teak columns inside the central sanctuary. The sanctuary houses two important Buddha images; one is the Phra Sila, a marble bas-relief Buddha, the other is Phra Satang Man, a crystal seated Buddha image.
The Red-and-gold stenciled murals on the walls depict the life of Phaya Mengrai, the founding father of Chiang Mai.
Top Tours in Thailand