Home > Thailand Tour > Thailand Attractions
Wat Arun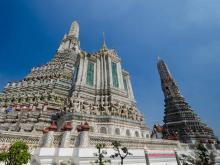 Wat Arun, also called as Temple of Dawn, is a Buddhist temple located on the Thonburi west bank of Chao Phraya River. Temple of Dawn is among the best known of Thailand's landmarks and the first light of the morning reflects off the surface of the temple with pearly iridescence that caters tourists' eyes.
With a large scale just second to Grand Palace and Wat Phra Kaeo, Wat Arun features a central prang (Khmer-style tower) encrusted with colourful porcelain, and the surrounding four smaller satellite prangs exactly alike decorated by seashells and bits of porcelain, which are supported by rows of demons and monkeys. The presiding Buddha image, cast in the reign of Rama II, is said to have been moulded by the king himself. The ashes of King Rama II are interred in the base of the image.
Steep and narrow steps lead to a balcony high on the central tower to let tourist climb up and have an overlook at the picturesque view of Bangkok lying on the opposite of Chao Phraya River.
Top Tours in Thailand