Home > Thailand Tour > Thailand Attractions
The Bridge over the River Kwai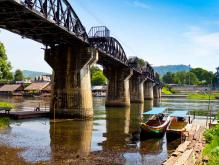 The Bridge over the River Kwai, also called Death Railway Bridge, attracts visitors from all over the world with its unbelievable sorrowful history. It is also the name of a World War II film directed by David Lean, based on the eponymous French novel (1952) by Pierre Boulle.
Built in 1942, the bridge was boomed several times, numerous people died during the Japanese occupation, plus the prisoners of war and the labors from Thailand, Myanmar, Malaysia and Indonesia.
Today little remains of the original railway as the rails were torn up by Thailand following WWⅡ. The Bridge over the River Kwai is a symbol of the ills of war, a reminder of how inhumane humans can be during war, or a doorway to the lost memories and lost lives for some people.
Top Tours in Thailand